Justice Cream's mission is to develop a solidarity economy through nondairy ice cream, while cultivating a collective consciousness through liberatory education.
Redistributing economic power directly to communities most harmed by racial capitalism.
Building capacity among grassroots groups who are most knowledgeable & experienced in organizing for the self-determination of their communities.
Generating new norms rooted in abundant care & equity.
We dare to envision a world where we are all free – where race, gender, borders, and private property are obsolete and universally condemned as violent constructs. We think critically but boldly, recognizing that "the master's tools will never dismantle the master's house" as Audre Lorde taught. As we imagine our new house, we center the perspectives of the most oppressed. We concretize our imaginaries with intention and organization — "visionary organizing", as Grace Lee Boggs taught.
We keep us safe. We sustain ourselves through community, mutual aid, and joy making. We value humanity over expediency, balancing urgency with the speed of trust. We respond to vulnerability with tenderness. We respond to weakness with grace. We respond to harm with transformative accountability. We understand that our micro relations prefigure our macro relations — if we cannot achieve a culture of care within our own circles, we will not achieve it in the broader world.
We reject racial capitalism. We believe any concepts of money should be used to make us (and the earth) well, not sick. We believe that community-defined reparations and wealth redistribution are non-negotiable parts of this new economy. As we resist the material realities of capitalism, we minimize our environmental impact and social harm by being intentional with whom we choose as vendors, and by being as sustainable as possible. We reject the nonprofit industrial complex and savior models of philanthropy, as these are apparatuses of racial capitalism. We believe that those directly impacted by a social problem are most equipped to lead efforts to address those problems.
We reject pedestals, heroes, clout, publicity, elitism, and hierarchy. In doing so, we manifest the spirit of equity that we wish to see in the world, while simultaneously protecting us from the oppressors' violence. We decentralize power within our organization. We do not subscribe to the promise of electoral politics, and instead govern ourselves through sociocratic methods. Decisions are made collectively and based on both consent and trust. We are all fallible and we are all interdependent — we celebrate our differences as creative sparks that can generate a vision of a world that serves us all.
We accept that "freedom is a constant struggle," as Angela Davis taught, and understand that "hope is a discipline," as Mariame Kaba taught. We celebrate and restore ourselves when we can, so that we care for ourselves as we do others. We navigate through the continuities and closures with an openness to learn from setbacks, and a penetrating focus on our aspirational impact.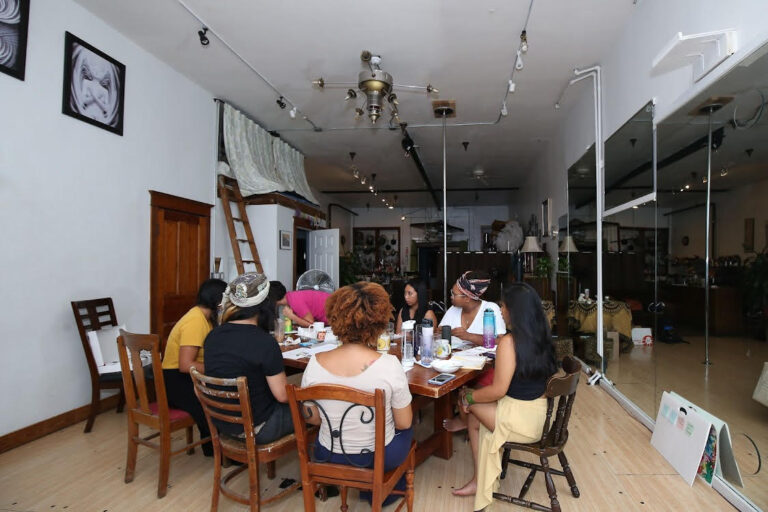 We are a women-of-color-led team with over 20 years of collective experience in: community organizing, culinary arts, visual arts, design engineering, education, social sciences, public health, fundraising and development, nonprofit leadership, data analytics, and business development.